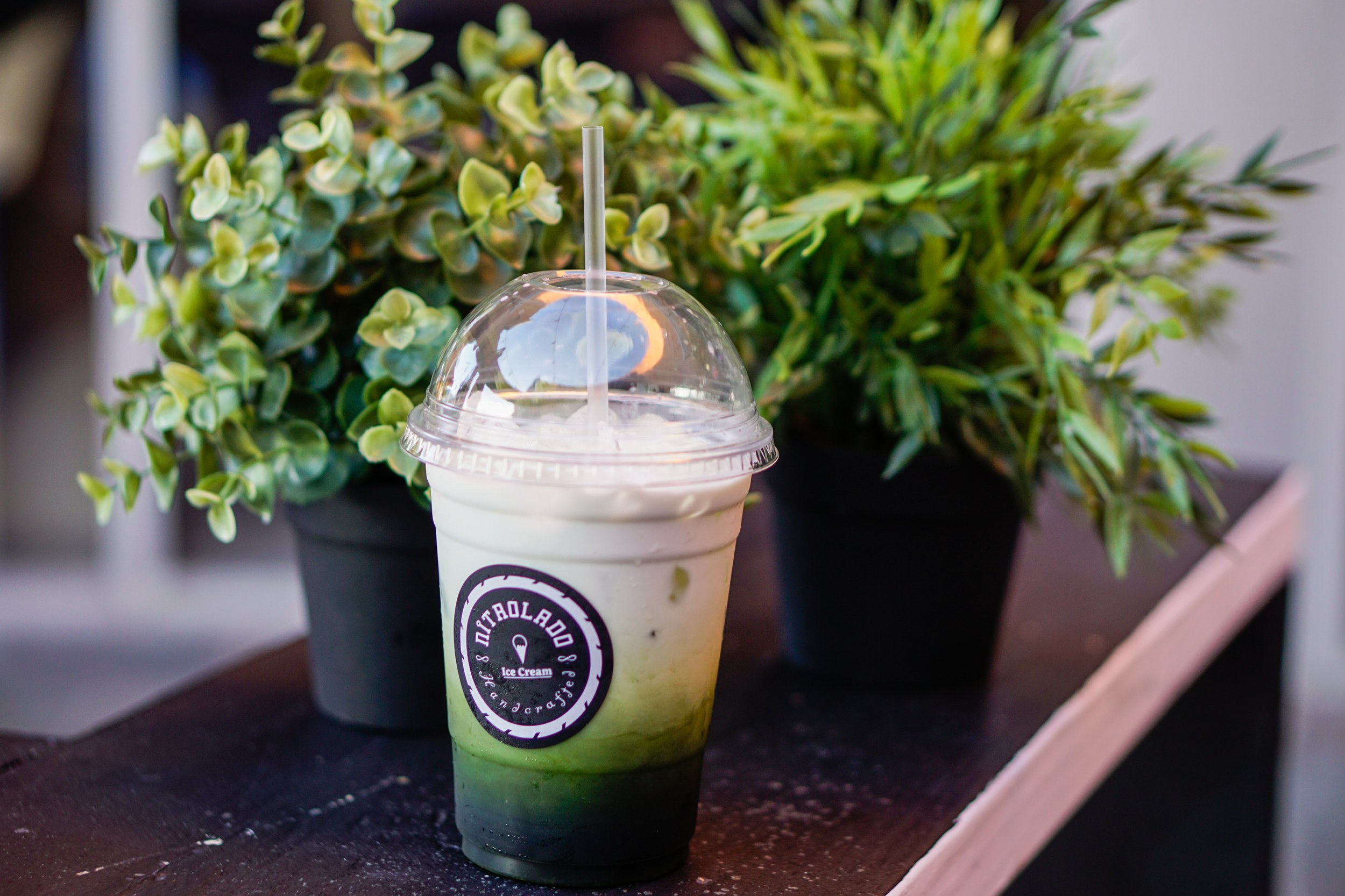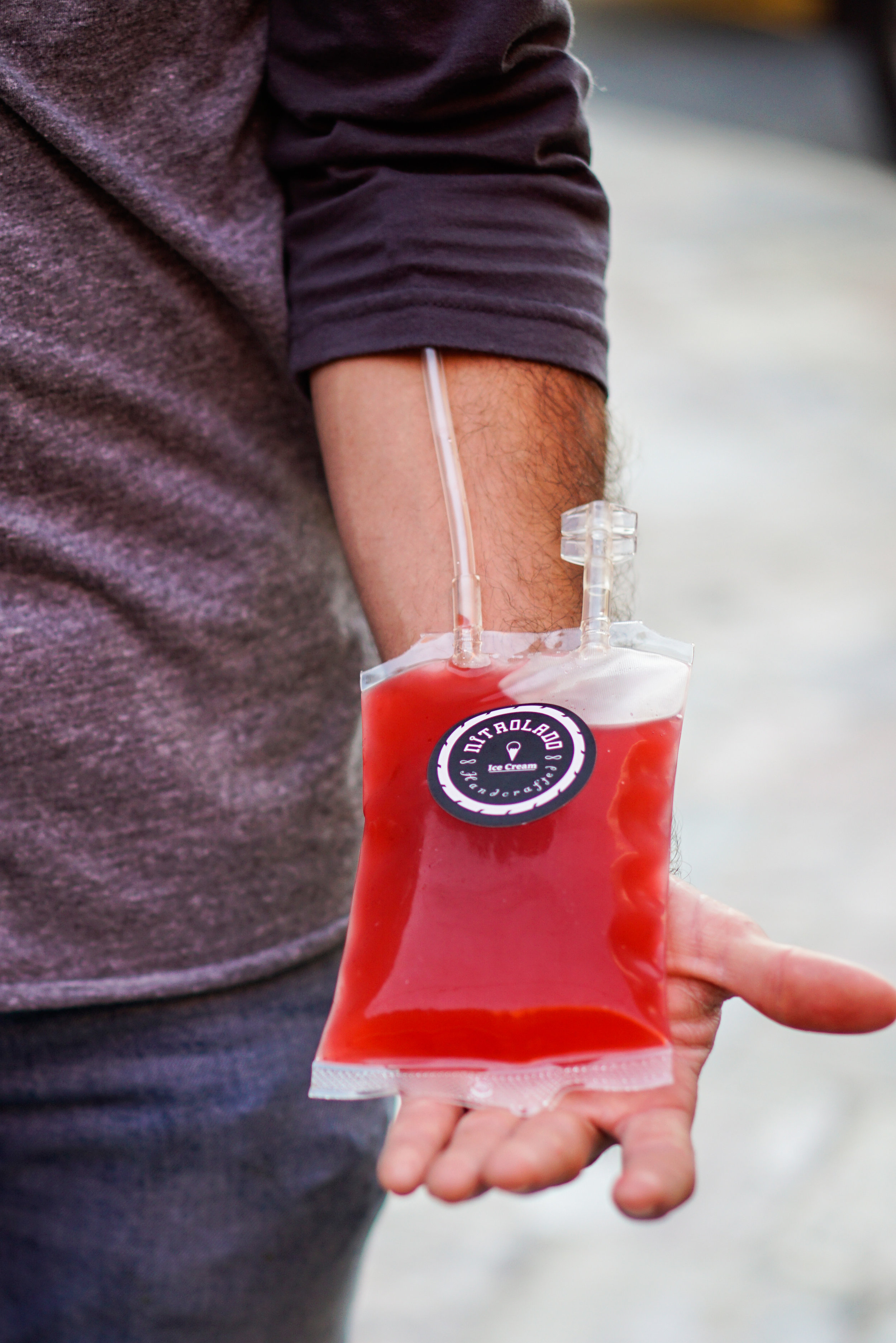 I had become a big fan of Nitrolado through visiting as a customer (after seeing Instagram bloggers post about this place), and that day, we got to try the Halloween flavors, check out their cool decorations, and help promote their deals for Halloween! Some of the seasonal flavors included Pumpkin Spice with Caramelized Candied Bacon, Blood Velvet Brownie (red velvet), and Coconut Lavender. I didn't get to try the red velvet one, but the other two were so unique and delicious! They also served the ice cream in LED cups for Halloween, and served Strawberry Rose Tea in a blood pouch. Spooky! This visit was also the first time I got to try the Green Thai Tea, which I completely fell in love with. I am looking forward to coming back on my own for more drinks and ice cream!
2) Pengo Drink Station (Laguna Hills, CA) - @missmisschelle/@notsomischealthy
This place was so adorable! There were penguin decorations everywhere. They also had some decorations and promotions for Halloween. It was such a cute little drink shop and there were plenty of photo opportunities! They also had cappuccinos, milk teas, lattes and smoothies, but we came here mainly for the sparkling water drinks. The sparkling water drinks were so refreshing and colorful, and delicious, with its fresh fruits and chia seeds. The drinks we had were the Deep Red Heart and Deep Blue Beauty! We had a great time here mingling, snacking, and watching the staff do card tricks for us.
3) Popbar (Rowland Heights, CA) - @topfoodnews and @socaleatery
I had no idea a Popbar store would be opening in Rowland Heights! Since the plaza already had restaurants like Jazz Cat and Chelo Creamery, this plaza was already a hip happening place! I had previously tried Popbar at the Anaheim Packing District and tried their sweet flavors, Green Tea and Hazelnut, but the day we went to the City of Industry location, we decided to be daring and tried the watermelon and mint flavors. While they were not as memorable as the Green Tea (they called it the Green Tea Kit Kat) or Hazelnut flavors, these gelato bars were very refreshing and maintained their shape as we took pictures by the grass and the random benches we saw around the plaza. Give this spot a try! The Green Tea Kit Kat was a hit!
4) Hoke Poke (Los Angeles, CA)
We did the Hoke Poke and got ourselves all turned around with this poke! Hoke Poke invited me to come try their poke so we stopped by on a weekend and we got the Mango Tango bowl (such a cute name, by the way!), which had some fun ingredients such as bamboo rice, wild salmon, and wasabi peas. My favorite part was the bamboo infused rice, which had a green color to it. I enjoyed our visit here and I would recommend this to people who work nearby, as this is a great option for lunch!
As always, thanks for reading! I have a recipe post coming up next. Check back soon for the next post!